The tennis world has been graced by the remarkable presence of the Big Three – 
Roger Federer, Rafael Nadal, and Novak Djokovic. For over two decades, their reign of dominance has captivated fans worldwide, but as the saying goes, all good things must come to an end. 
With recent developments in the tennis world, signalling the potential end of the Big 3 era. Novak Djokovic's surprising loss to Carlos Alcaraz in the Wimbledon 2023 finals, coupled with Rafael Nadal being hampered by an injury and Roger Federer announcing his retirement, has left fans speculating about the future of tennis.
It is evident that the era of the Big Three is slowly drawing to a close. However, this departure also signals the rise of a new generation of talented players, who are poised to take the sport to new heights.
As time marches on, we find ourselves at a crucial juncture in tennis history – an era of transition and transformation. In this blog, we pay tribute to the Big Three as they bid farewell to the professional circuit, while eagerly welcoming a new generation of tennis stars poised to take the sport to even greater heights.
THE BIG THREE: FEDERER-NADAL-DJOKOVIC
The Big Three, consisting of Novak Djokovic, Roger Federer, and Rafael Nadal, have earned their iconic nickname by dominating men's singles tennis for nearly two decades; they have indelibly shaped the landscape of tennis over the past two decades. Their unmatched skills, fierce competitiveness, and remarkable achievements have propelled them to the pinnacle of the sport. Each player has left an indelible mark on tennis history, cementing their status as true legends in the game.. These legendary players are considered among the greatest of all time, with an astounding combined total of 65 major singles titles. Djokovic leads the pack with a record 23 titles, closely followed by Nadal with 22 and Federer with 20. They have also spent a remarkable 908 weeks at the top of the singles rankings, a feat equivalent to an astonishing 17 years. 
ROGER FEDERER: A Legacy of Grace and Greatness in Tennis
Roger Federer, the Swiss tennis maestro, embarked on a journey in tennis that would leave an indelible mark on the sport. He first emerged on the ATP Tour at the age of 17 and quickly showcased immense talent and promise.
Federer's breakthrough came in the early 2000s when he began to make his mark on the professional circuit. By the end of the 2002 season, he was already ranked sixth in the world, setting the stage for an illustrious career.
In 2003, Federer achieved a milestone by capturing his first major title at Wimbledon, signalling the start of his dominance on the tennis scene. The following year, he continued his stellar run by winning three of the four major titles, ascending to the world No. 1 spot, and finishing the year as the top-ranked player.
Known for his elegant playing style and versatility on all surfaces, Federer's legacy in tennis is marked by his incredible record of 20 Grand Slam men's singles titles, which stands as the all-time record until today. His unrivalled skills on grass, hard courts, and indoor surfaces have earned him the title of one of the greatest players in the history of the sport.
Federer's achievements are not limited to Grand Slam success; he has won a total of 103 ATP singles titles, showcasing his remarkable consistency and longevity in the game. Throughout his career, he has continuously been a prominent presence at the top of the rankings and has held the world No. 1 spot for a record total of 310 weeks.
Beyond his accomplishments on the court, Federer's legacy extends to his sportsmanship, humility, and dedication to the sport. He is widely respected and admired for his graciousness and respect for his opponents, making him a role model for players and fans alike.
Federer's impact on tennis is immeasurable, inspiring generations of players and captivating audiences around the world with his artistry and skill. His name will forever be synonymous with excellence, elegance, and sportsmanship, solidifying his place as one of the greatest players to have ever graced the courts.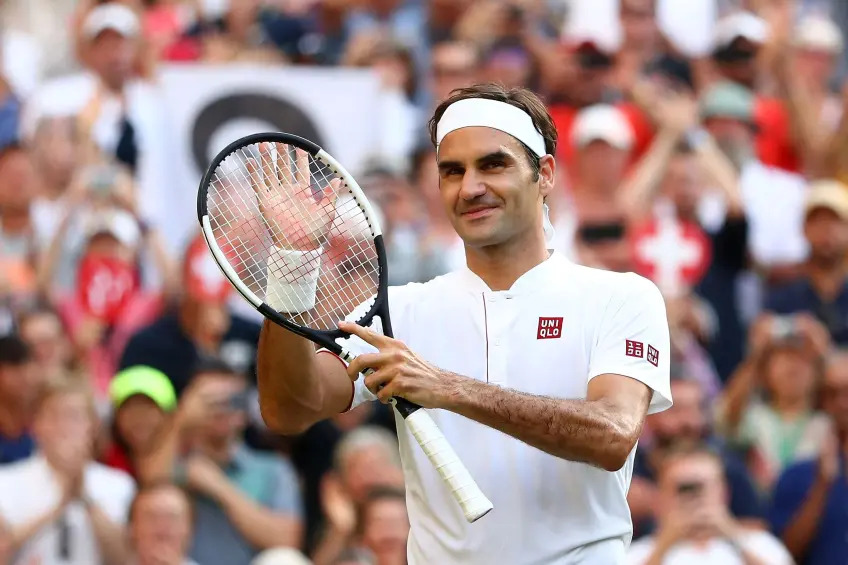 RAFAEL NADAL: THE KING OF CLAY
Rafael Nadal, the Spanish tennis prodigy, embarked on his journey in tennis with immense talent and passion. He made his entry into the professional circuit at a young age, impressing the world with his remarkable skills and left-handed playing style.
Nadal's breakthrough moments began to surface in the early 2000s when he achieved success as a teenager. He quickly rose through the rankings, and in 2004, he secured his first ATP Tour victory at just 15 years old. Notably, he defeated Roger Federer, one of tennis' greats, in their first encounter at the 2004 Miami Open.
His real dominance emerged in 2005 when he claimed 24 consecutive victories on clay, including his first French Open title, where he defeated Federer in the semifinals. This marked the beginning of a rivalry that would shape tennis history.
Nadal's legacy in tennis is defined by his extraordinary achievements on clay courts, where he has been virtually unbeatable, amassing a record-breaking 14 French Open titles. His unmatched prowess on this surface has earned him the title of "King of Clay."
Beyond his clay court excellence, Nadal's legacy includes an impressive total of 22 Grand Slam men's singles titles and 92 ATP singles titles. He has consistently ranked among the world's top players, earning the coveted world No. 1 spot on multiple occasions.
His career has been defined by an unwavering fighting spirit, sportsmanship, and an unmatched determination to succeed. Nadal's exceptional forehand with heavy topspin and his ability to break serve with consistency have made him a formidable force on any court.
Moreover, Nadal's impact extends beyond his on-court achievements. He has been a role model for aspiring tennis players and a symbol of inspiration to millions worldwide. His dedication to philanthropy and his efforts to give back to the community showcase his admirable character.
Rafael Nadal's legacy in tennis will forever be remembered as that of a true champion, a tenacious competitor, and an embodiment of the spirit of the sport. His name will be etched in the annals of tennis history as one of the greatest players to have ever graced the courts.
From Challenger to Champion: The Enduring Legacy of NOVAK DJOKOVIC
Novak Djokovic, the Serbian tennis phenom, made his entry into the tennis world with promise and determination. He began his professional journey in 2003 and quickly rose through the ranks, challenging the dominance of established players like Roger Federer and Rafael Nadal.
Djokovic's breakthrough year came in 2007, where he reached one major final and two semifinals, showcasing his immense potential. As he continued to excel, he earned a reputation as a formidable opponent, regularly challenging the tennis elite. By the end of 2007, he secured the world No. 3 ranking and had already clinched two Masters titles and five overall titles.
His rise to prominence continued, and Djokovic went on to become an inseparable part of the celebrated "Big Three" alongside Federer and Nadal. From 2008 to 2010, he emerged as a serious contender, competing fiercely with Federer and Nadal and vying for major titles.
Djokovic's legacy in tennis is marked by his incredible achievements and unwavering determination. He has etched his name in the tennis history books with an all-time record of 23 Grand Slam men's singles titles, including ten Australian Open victories, setting a new standard of excellence.
Throughout his career, Djokovic has maintained a strong presence at the top of the ATP rankings, often reaching the world No. 1 position. His consistency and dominance on various surfaces, including hard court and grass, have earned him a place among the sport's true legends.
Moreover, Djokovic's remarkable contributions extend beyond his on-court prowess. He led the Serbian national tennis team to historic victories, winning the Davis Cup title in 2010 and securing the inaugural ATP Cup title in 2020, representing his country with pride.
Novak Djokovic's legacy in tennis stands as a testament to his unparalleled skill, determination, and sportsmanship. His remarkable career achievements have left an enduring impact on the sport, solidifying his status as one of the all-time greats in the history of tennis.
PASSING OF THE BATON,THE BIG THREE TO THE RISING STARS:
The future of tennis is undoubtedly in good hands, as a new generation of talented players emerges to carry on the legacy of the sport. With stars like Stefanos Tsitsipas, Daniil Medvedev, Alexander Zverev, Casper Ruud, Taylor Fritz, and Carlos Alcaraz making waves on the professional circuit, tennis enthusiasts can expect an exciting and competitive era ahead.
These young players have already demonstrated their potential by achieving remarkable successes and pushing the boundaries of the game. They possess diverse playing styles, unique strengths, and exceptional athleticism, making for captivating matchups and thrilling matches. Their passion for the sport and hunger for success are evident, reflecting a deep commitment to continuously improving and competing at the highest level.
Moreover, the new generation of players is not only talented but also mentally resilient. They have shown their ability to handle pressure and bounce back from tough losses, displaying maturity beyond their years. This mental fortitude is a crucial aspect of success in tennis, and it bodes well for their future in the sport.
As these young players continue to gain experience and refine their skills, they are poised to challenge the established elite and forge new rivalries that will captivate audiences worldwide. The baton is gradually being passed from the legendary Big 3 to this rising generation, and it is an exciting transition for the sport.
With the dedication and talent of these young stars, the future of tennis appears bright and promising. They are not only the future of the sport but also its present, already competing at the highest levels and making their mark on the world stage. As they continue to grow and develop, their impact on the game will undoubtedly be significant, ensuring that tennis remains a thrilling and compelling sport for years to come.
CONCLUSION:
As the Big 3 era draws to a close, tennis is on the cusp of a new chapter. Young talents like Stefanos Tsitsipas, Daniil Medvedev, Alexander Zverev, Casper Ruud, Taylor Fritz, and Carlos Alcaraz are poised to take over the reigns of the sport. These rising stars have displayed remarkable potential and skill, captivating fans with their electrifying performances.
However, while the new generation of players has the talent to make a mark on tennis, it is undeniable that replicating the sheer dominance and legacy of the Big 3 will be an immense challenge. Federer, Nadal, and Djokovic have amassed a combined 65 Grand Slam titles, redefined records, and created unforgettable rivalries. Their impact on the sport goes beyond statistics, as they have become symbols of excellence, sportsmanship, and inspiration to aspiring players worldwide.
As the torch passes to the next generation, tennis enthusiasts will witness new rivalries, fresh narratives, and exciting moments on the court. While the Big 3's era is coming to an end, their legacy will endure in the annals of tennis history, forever etched as icons who redefined the sport. The new upcoming talent will undoubtedly bring their unique flair to the game, but matching the legendary legacy of the Big 3 will be a challenge that may remain unparalleled in the sport of tennis.
---