Indian Premier League (IPL) franchise Delhi Capitals recently shared a post on LinkedIn reporting a cumulative 218.88 million video views for the month of April. Interestingly, this was higher than both Real Madrid and Liverpool FC for the same metric, combined. These numbers caught our attention and got us thinking – Is Facebook still relevant in the field of sports marketing?
In the Q4 (fourth quarter) of 2021, Facebook saw a sharp decline in users between within the range of 500,000 to 1 million. How did Facebook adapt to this?
As the world progresses trends in the direction of short-form video content, we can see how different media platforms are adapting their marketing strategies accordingly. The concept of short-form videos has blown up, adjusting to the short attention spans of today's generation. TikTok has definitely been a tough competitor and a flag bearer of short video format until recently. The experience is very immersive in nature and intends to create a sense of community by providing more live updates, interviews, and content. Facebook, too is adapting to this as they have allowed for cross-platform streaming and sharing from Instagram to Facebook, thus enabling sharing of reels. YouTube has rolled out 'YouTube Shorts' as a way to jump on the trend.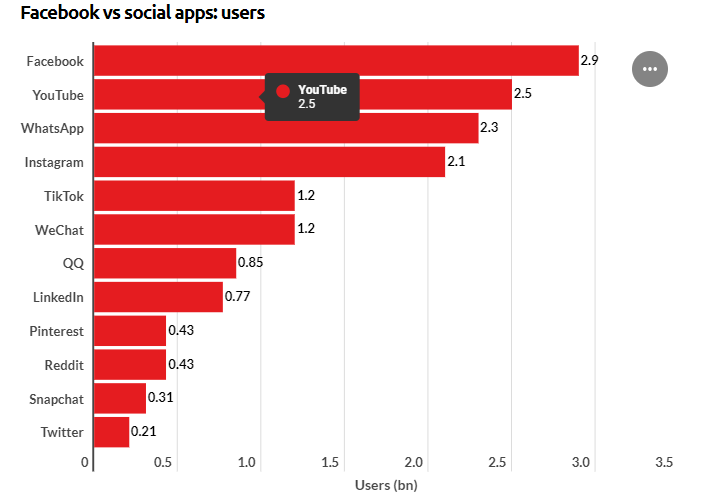 How does Sports Marketing work on Facebook?
Facebook has its own Sports Partner program where it allows clubs and media houses to develop, monetize and engage the audience.
Video-first strategy
In 2017, tennis Grand Slam Wimbledon opted for a video-based strategy by hosting live videos, pre-game Q&A's from players like Roger Federer, live 360-degree videos, exclusive online communities, partnerships with fellow broadcasting houses, cross-platform posting on Instagram via sharing 'Reels', IGTV videos and so on. The results of this strategy were quite astonishing.
2. Fan Engagement
The UCF (University of Central Florida) American football team developed a content plan that involved and incorporated highlights, behind the scenes (BTS) videos, and unmatched access to the team. They produced 60-second recaps of their wins and asked fans to use the hashtag #AskUCFAD to interact directly with the team. It proved to be a huge success as they became the team that had the highest Facebook page growth in the American Athletic Conference and topped the AAC leaderboard in video views and engagement.
3. Driving Revenue (Off-platform) and Branded Content (Sponsorships)
Collaborating with brands to create branded content is one way to generate revenue. On Facebook, another revenue stream was launched -ticket campaigns. The New York Jets in 2018 opted not just for a video content strategy but also by selling premium tickets on the platform. The Jets designed a strategic digital plan that aggressively targeted potential ticket purchasers. To do so, the Jets leveraged key data inputs to create custom and lookalike audiences – including those who have engaged with content on their Facebook and Instagram pages.
Now, going back to the crux of this blog's topic –Delhi Capitals and their social media figures. 2020 was a special year for the team from Delhi as they roared their way into the final of IPL 13. Though they couldn't win the title, history was created. All through the season, efforts on the field have been supplemented by an integrated strategy on social media where Delhi Capitals' players, as well as management, can be seen engaging in conversations online, creating a space for fandom to flourish.
Delhi Capitals and the build-up online were in sync with the triumphs on the field. There was enough pride and focus on players to create a space where fans could stay connected and feel like they could positively contribute to the narrative. This, tied together with their focus on the logo, is helpful in facilitating the demand for merchandise.
Virtual Meetups were crucial for the Capitals' social media strategy as it helped them facilitate and nurture their fandom.
The Delhi Capitals boast 22 million followers on various platforms – 8.2 million are from Facebook alone. The team regularly posts videos and interactive content throughout the season, adding up to a whopping 17200+ posts.
Interim CEO Vishal Bhisht, in an interview, provided an insightful statement whilst reflecting on his team's off-the-field success.
 "The past two years have actually been an eye-opener for us as we had to reinvent ourselves as a franchise. As the spectators could not be there in the stadium last year, we got an opportunity to establish new digital partnerships and create (audience engagement) content like never before. So, these past two years have been extremely fruitful for us, and we have nearly doubled our revenues."
---
Are sports teams not giving enough importance to Facebook as a sports marketing tool?
Let us know in the comments!
#Vilayinsights