Athletes today take social media very seriously. The impact of each post, reel, or tweet has multiplied enormously. In our previous blogs, we have talked about different platforms like Facebook and Instagram and their importance in athlete marketing. While these platforms allow athletes to interact with their fans, LinkedIn is quite different.
LinkedIn allows athletes to interact with people in the corporate world, including entrepreneurs and potential investors. It allows for very little fan chatter and helps the athletes grow their professional network in a meaningful way. In addition, it provides a more global approach and increases the visibility of bigger professional opportunities. Besides networking, it also provides a platform for learning about innovation in sports management. It also is a great place to practice forms of activism. It shows how serious one is about voicing out their views on serious matters.
Here are a few popular athletes who have been growing their LinkedIn following by engaging actively:
1. Willi Orban
He is a 29 year old professional footballer from Hungary who plays centre-back for German Bundesliga club RB Leipzig.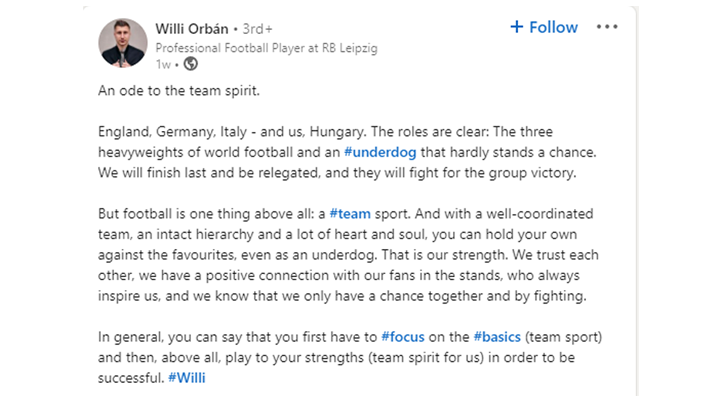 2. Toni Kroos
A German professional footballer who plays as a midfielder for Real Madrid. Kroos is known for his vision, passing, crossing, and set-piece ability.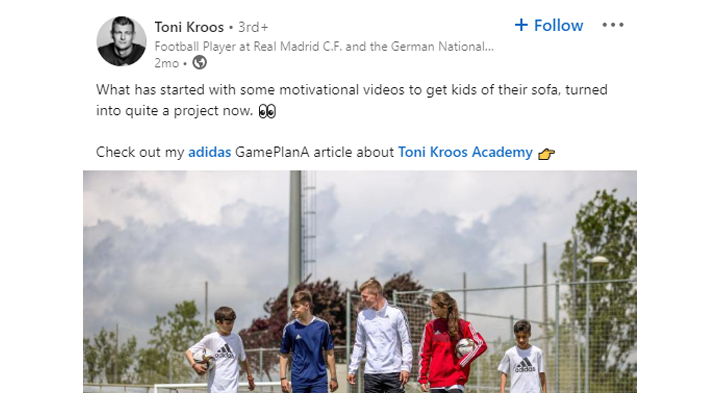 3. Shaquille O'Neal
Popularly known as 'Shaq', he is a former American Basketball player and is currently a sports analyst on Inside the NBA.  He is regarded as one of the greatest basketball players of all time. He is also known for the various partnerships with multiple brands, from food to sports. He has a diverse portfolio of assets all around the world.
4. Mario Götze
A German footballer who plays for Bundesliga club Eintracht Frankfurt, famously known for the winning goal he scored for Germany in the 2014 FIFA World Cup Final. In fact, his career took a turn following that moment – Götze came out publicly stating his struggles mentally. He aspires to help the next generation of both footballers and employees in their careers.
Should younger players focus on promoting themselves on LinkedIn?
YES!
Businesses will take younger athletes more seriously when they find out that the individual is not only interested in growing their brand but is interested in building something outside their comfort zone. It shows the interest in being better and that the individual is reaching out for resources. Being a part of multiple networks in the field will definitely help the athletes build a brand and a business.
---
#Vilayinsights